THE VALS OF THE QUARANTINE LOVERS
.
"1,2,3… 1,2,3….Brilliant fantasy or blurry memory of a quarantine encounter..1,2,3… 1,2…….3.1,2. 1,2……3.1………2,3. 1,2,3….Failed landing of the dance of the blown heads.
1,2,3… 1,2,3…"
.
A house as a refuge in quarantine for two souls in moving times..Unexpected encounter in the middle of personal and global crisis, fears and dreams..The post-production of the pictures and the paper where they are printed aim to symbolize both the blurry memory of something which maybe don't happen as we imagined and felt and the shiny side of this encounter that dazzles eyes, heart and minds.
EL VALS DE LAS CABEZAS VOLADAS
.
1,2,3… 1,2,3….Fantasía brillante o recuerdo borroso de un encuentro puertas adentro..1,2,3… 1,2…….3.1,2. 1,2……3.1………2,3. 1,2,3….Aterizaje fallido del baile de las cabezas voladas..1,2,3… 1,2,3
.
Una casa como un refugio en cuarentena.Dos almas en tiempos movidos..Un encuentro improbable en el medio de crisis globales e intimas, miedos y sueños..La post-producción de las imagenes y el papel del fanzine simbolizan tanto la memoria borrosa de algo que capaz no ocurrió como lo imaginamos y sentimos como el brillo de un encuentro que alumbro los ojos, corazones y mentes.
COMPRAR EL PHOTOZINE
.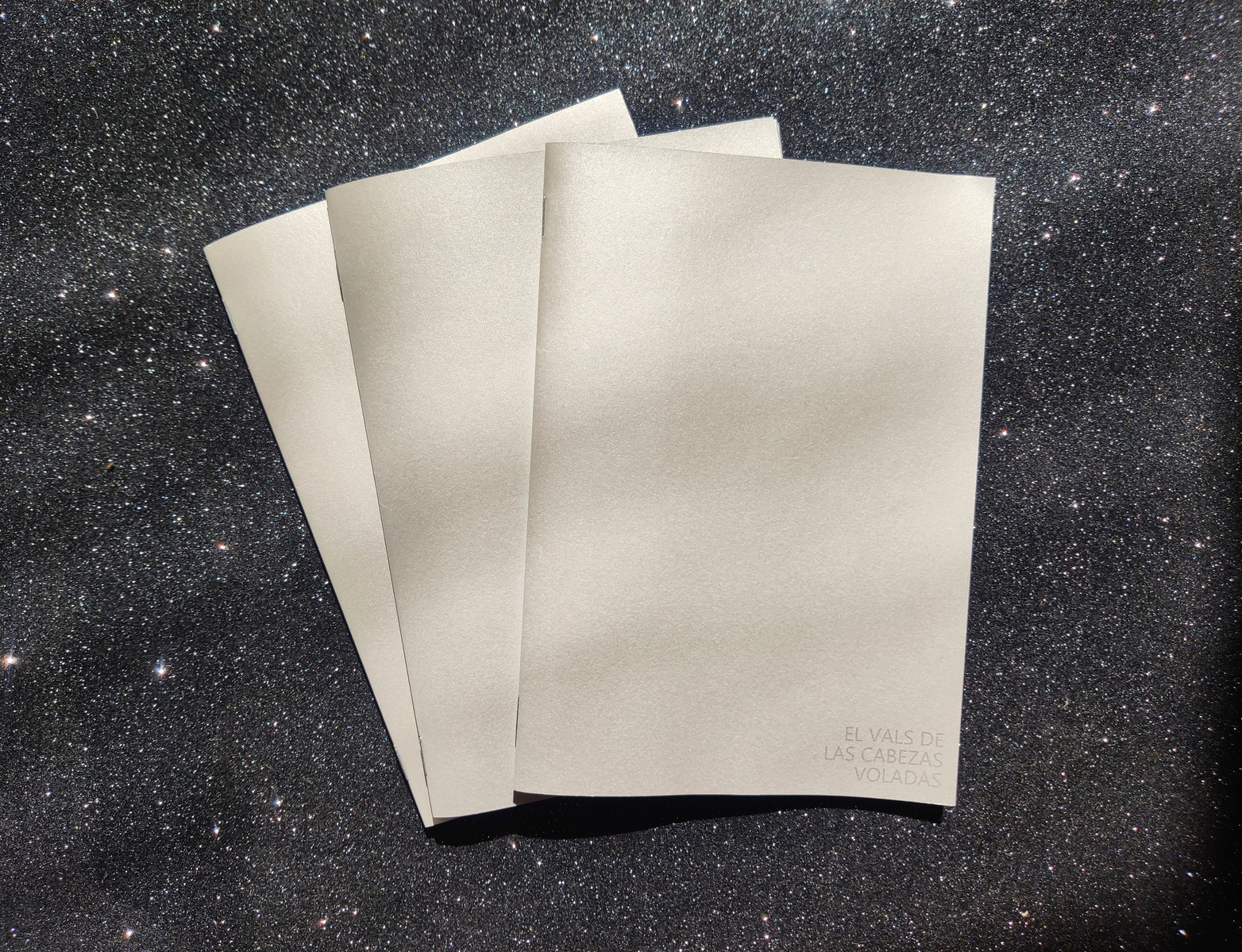 Auto-edición. 24 páginass. Papel perlado gris 120grs. 14,8 x 21cm
Imagenes : Día 45 a 84 de la cuarentena.
Maquetación: Día 130 a 137 de la cuarentena.
Impresión: Día 138 de la cuarentena.
Buenos Aires, Argentina
Self-editing. 24 pages. Pearlized gray paper 120grs. 14,8 x 21cm
Images : Day 45 to 84 of the quarantine
Layout and concept: Day 130 to 137 of the quarantine
Printing: Day 138 of the quarantine
Buenos Aires, Argentina