On December 30 2020, I stood on the streets of Buenos Aires holding my camera. Even though witnessing historic events is part of my profession, to live the coverage of the voting of the abortion legalization law as just another coverage was impossible. I also stood there for myself, as a female citizen, inhabitant, and comrade.
For two nights of vigil, my heart was divided between feeling fortunate to be contributing to the collective visual memory of this moment, and the desire to be really there, lying on a sidewalk, exchanging the camera for a beer and watching the giant screen like a thriller, surrounded by an audience with the same pulse, as one senator appeared on it after the next.
I felt I needed to find a space of my own, a simple and intimate way to meet my peers, to vibrate together, even if it was just for a couple of minutes. I decided to take portraits of women and diversities that I met along the way, from the first minute of the vigil to the vote. I had short conversations with them based on three questions: How long have they been waiting for this moment, what does the legalization represent and what would I say to those who are on the other side, against it.
In the early morning of December 30, as the count progressed, I rarely felt my body so weak, my legs on the verge of failing at the moment of THE photo. My emotion grew at the thought that "this is happening", that the world, my world and the world of many was going to change in one second.
One fragile and powerful second that ended the long nights and long decades of waiting and struggle.
Check the photozine ESPERA(NZA)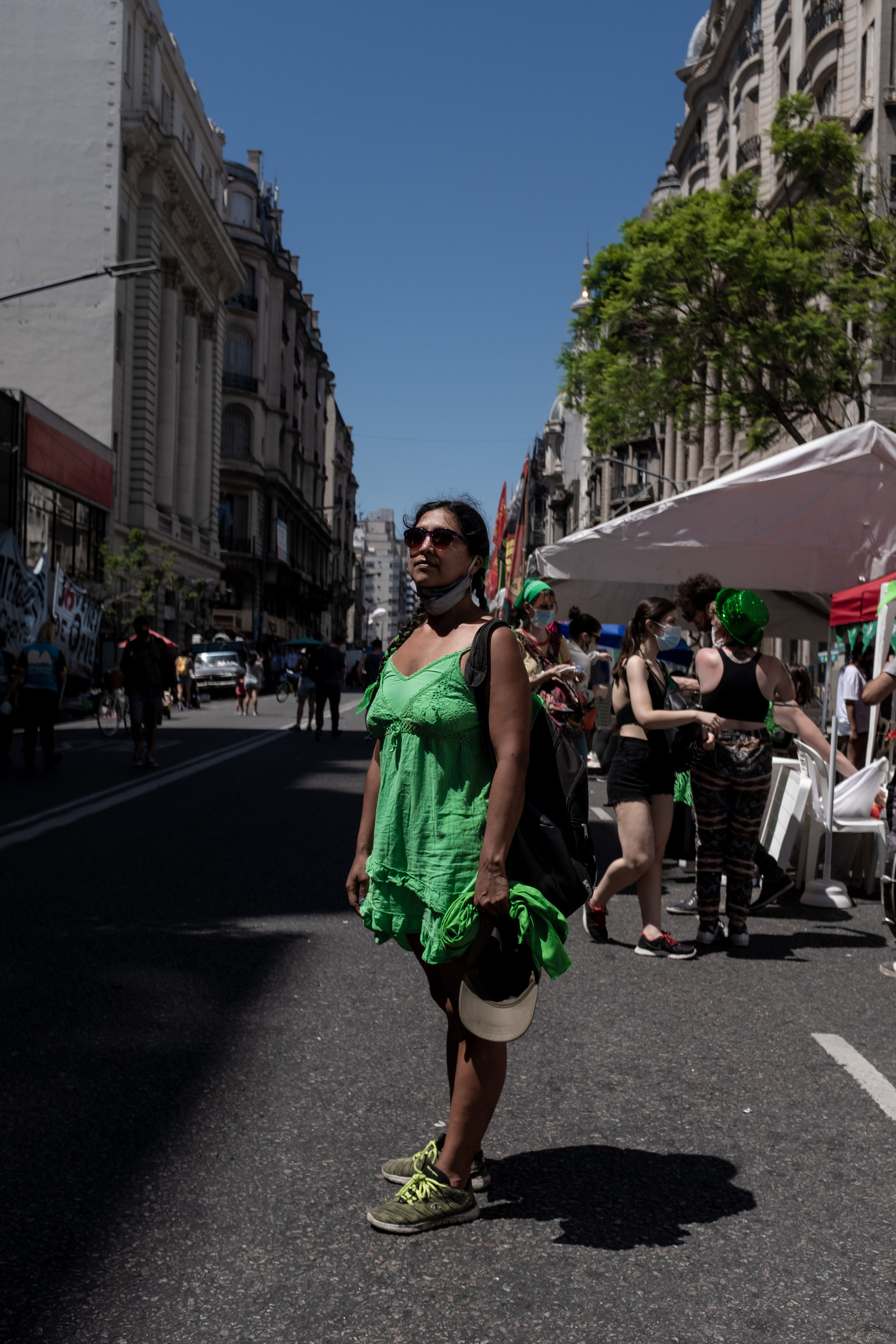 DAY ONE
12:18AM
NILDA, 52 YEARS OLD
POPULAR ACTIVIST
"We've been waiting for years for it to become law. I come from a popular neighborhood, in Almirante Brown, where the situation is complicated for our sisters, neighbors, and young people. To see our girls dying in our neighborhoods due to clandestine abortions is terrible."
DAY ONE
12.35 AM
TUQUI, NON BINARY ACTIVIST
"I have been part of the 8M (International Women's day) movement for 4 years. With legalization, all this force, struggle, militancy becomes meaningful, there will no longer be deaths in hiding. No one forces anyone to have an abortion, abortion exists and will continue to exist."
DAY ONE
2.55 PM
ESTHER, 61 YEARS OLD, PSYCHIATRIC REHAB WORKER AND SINGLE MOM.
Here the older ones like me remember the Alfonsin government that put the divorce law into effect. The church was against it, because they said no one else would get married, and that it would destroy the family, but it was a lie.
They are throwing a lot of false information into the debate. The rich girls go to the clinic and maintain their social status and nothing happens to them, they are still young ladies and nothing happens to them, this is the inequality that in any case this law diminishes."
DAY ONE
10.33 PM
MARIA EVA, 31 YEARS OLD
PHOTOGRAPHER AND ADMINISTRATIVE
In 2008, before I had my two daughters, I had to go through an abortion, a friend gave me some pills. My mother found out recently. She was always in favor, she raised me in a very free way, but at that time I was afraid to tell her.
I hope that today the bill will come out, not for me, but for all those who are not here anymore and for my daughters, so that they can decide when they grow up when and with who they want to be mothers, and that they can tell me, not like I did with my mom
DAY ONE
11.43 PM
MORA, 22 YEARS OLD
MEDICINE STUDENT
I am from Bariloche, and there was a National Women's Meeting there and since then my mother taught me about feminism and I know about abortion from a very young age. I have known the green scarf for many years and when it was used again two years ago, I was at the vigil of the Senate, and I realized that this is the world to which I want to belong.
DAY ONE
00.01 PM
MARI, 22 YEARS OLD
UNEMPLOYED
I didn't want to be a mother, and I didn't have the support not to, I didn't have the support of the state or my family. But here I am. I want my daughter to be able to decide. I want those who are against to think, to be empathetic.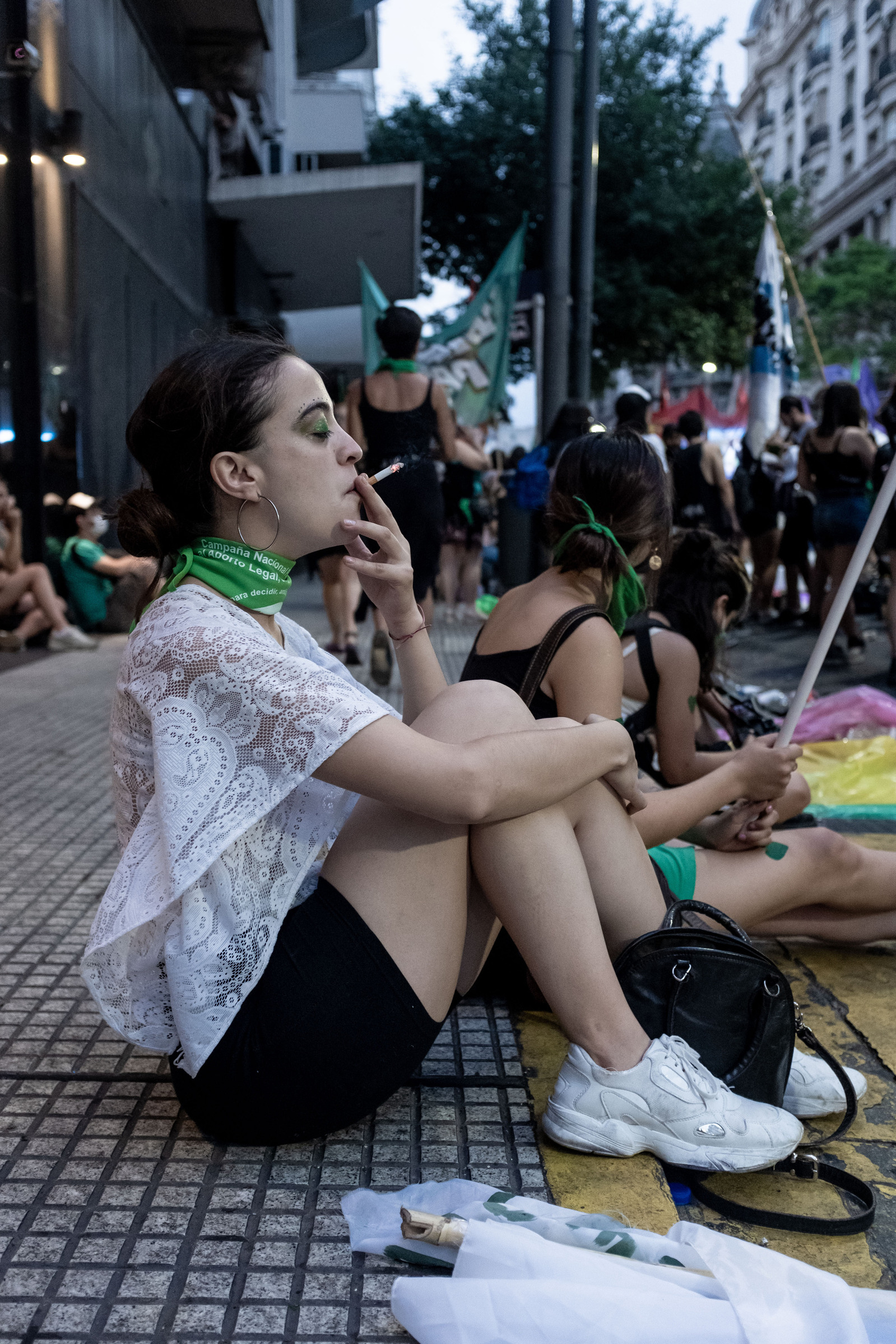 DAY TWO
3.55 PM
MAITENA, 20 YEARS OLD
STUDYING TO BE A PRIMARY SCHOOL TEACHER AND OWNING A MICRO ENTREPRENEURSHIP
"I have been waiting for this since I was 12 years old. I fight with my mom, she taught me a lot about how to fight for my rights. I understand those who are against it, but they want to save both lives and end up saving neither. I'm a Catholic, a believer like my grandmother. They say that God will not forgive you, but it is the other way around, they will not forgive you, not God.
DAY TWO
2.31 AM
BETINA, 60 YEARS, ACTIVIST AND SOCIAL WORKER
"We started in 2005 with this militancy. I work in the popular neighborhoods and it will be very important that we debate and have discussion there, that we explain the situation as it is. It's not like the hospitals are going to be full of 10 or 11-year-old girls getting abortions. We must continue to raise awareness in society.
I'm very excited. I came with my colleagues, for us this is historic. I work, I get up at 6 in the morning, but I had to be here."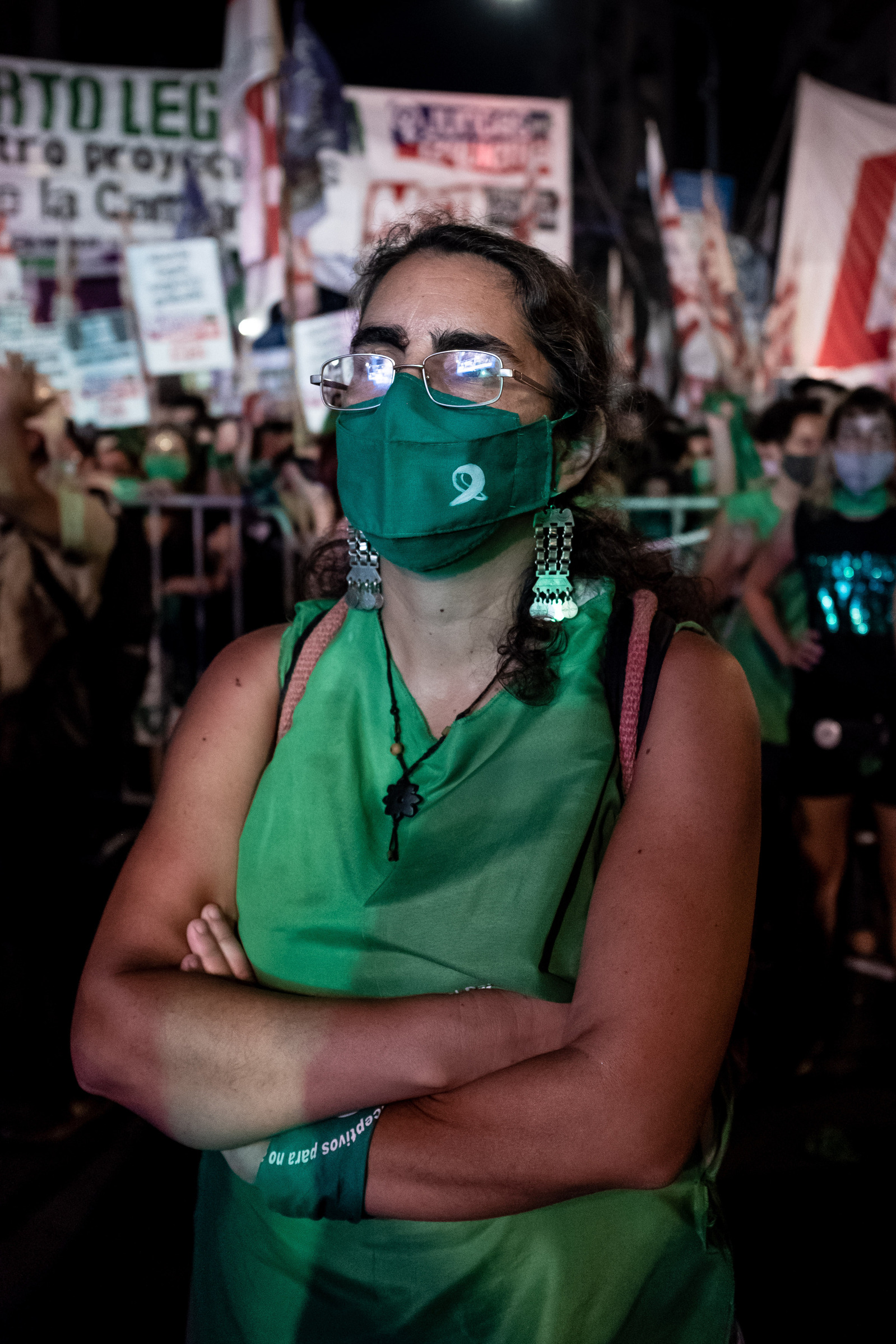 DAY TWO
3.29 AM
PAULA, 44 YEARS OLD
TEXTILE COOPERATIVE WORKER
"Today I want to return home with the law, for my daughters and for everyone.
It is one more right, which we need. It's like when women began to vote, they began to have their independence, and today a right about our bodies so that no one decides for us.We are also in favor of life, that's why we want this law "